Schlitterbahn Waterpark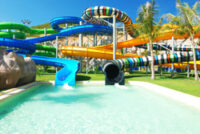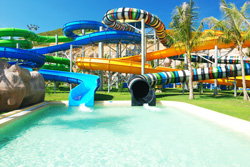 Longer rides, more thrilling slides, free parking, and free tubes are just some of the reasons to make a visit to Schlitterbahn Galveston Island Water Park. Enjoy kids and adults games and rides at this amusement park and enjoy a fun adventure with your entire family riding dozens of heart-racing coasters at Schlitterbahn Galveston Island Waterpark, TX. Round up the whole family and head on over to this fun amusement park for a day packed with endless adventures. Schlitterbahn Galveston Island Waterpark has grown to become a family tradition.
Schlitterbahn's Summer Season
Schlitterbahn's Summer Season (late April-September), offers more than 32 amazing rides and attractions, including a large wave pool, uphill water coasters, thrilling speed slides, kid's water playgrounds, whitewater rapids, relaxing hot tubs, family raft rides, the Boogie Bahn surf ride and the exclusive Transportainment river system.
Schlitterbahn's Heated Indoor Season
During the Heated Indoor Season (fall, winter and spring*) relax in steaming warm waters and enjoy summer fun all year long. The Heated Indoor Season features more than a dozen heated rides, including 4 amazing tube slides, 3 thrilling body slides, 2 kid's areas, the Torrent wave river, a wave pool, a man-made surfing wave and an arcade.
The Soaring Eagle
For a small charge, waterpark guests can glide above the park, flying more than 100 feet in the air, on a two-person gondola for 1/4 of a mile.
Premium Cabanas
Schlitterbahn's premium cabanas create a unique and relaxing experience. Guests enjoy a common meeting ground for their party and experience private seating, lounge chairs, catering, tableside service, dedicated lockers and hammocks.
Schlitterbahn Galveston Island Water Park Address
2026 Lockheed St
Galveston, TX 77554
United States
Phone: (409)770-WAVE, (409) 770-9283