Port of Progreso tourist information.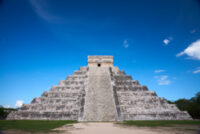 Progreso is a port city in the northwest coast of Mexico's Yucatan peninsula, is one of the newest ports for large cruise ships and regular port of call on Western Caribbean itineraries, particularly those leaving from Galvestont Texas port.  Located on the Gulf of Mexico, Progreso serves as an access point for visiting the rich Mayan historical sites found in this part of the world. Passengers disembark on a very long pier, the Terminal Remota opened in 1989 that juts out 4.0 mi into the Gulf of Mexico. Passengers are taken to shore to visit Progreso, Mérida or the Maya civilization archaeological sites of Uxmal and Dzibilchaltun.
Yucatan tourist attractions
Progreso tourist attractions
Lovely waterfront promenade in Progreso is always bustling with food and craft vendors, local residents and beach-goers, and the waters just off the coast are calm, clean and good for swimming. Grab a seat at one of the many palapas (thatched-roof restaurants) that extend the length of the beachfront. Progreso is an excellent spot to sample some of Yucatan's distinct regional cuisine. Seafood dishes are popular and include sopa de mariscos (seafood soup), pescado tikin-xic (grouper seasoned with achiote and baked in banana leaves) and chivitas (river snail ceviche).
Most of the local craftspeople and merchants are stationed right near the cruise terminal. Vendors at the nearby crafts market peddle everything from handmade jewelry to woven blankets to clothing to replicas of Mayan artifacts. The local farmer's market offers fresh tropical fruit you can't find back in the states.
Merida tourist attractions
Merida is the largest city and capital of the state of Yucatan, the cultural and financial capital of the region. Merida is a modern and cosmopolitan city, with museums, art galleries, restaurants, shops and boutiques. It is also one of the most important places where to experience the Mayan heritage. Downtown Merida has become an important meeting point for tourists and the Yucatecan people. There, in a kind of city-museum, visitors can get to know interesting examples of civic and religious architecture. Be sure not to miss its delicious cuisine.