San Juan tourist information.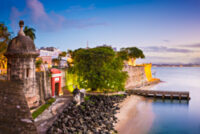 San Juan is the capital and largest city in the northeast of the island of Puerto Rico. It has a land area of about 76 square miles, and the city's population is approximately 395,000. As an unincorporated territory of the United States, Puerto Rico's capital is the second oldest European-established capital city in the Americas, after Santo Domingo, in the Dominican Republic. San Juan was founded by Spanish colonists in 1521, who called it Ciudad de Puerto Rico ("Rich Port City").
Today, San Juan is known as La Ciudad Amurallada (the walled city) is Puerto Rico's most important seaport, and is the island's manufacturing, financial, cultural, and tourism center. San Juan features distinctly century-old architecture, several historical buildings such as Spanish military forts built from the 1540s to 1800s,  Fort San Felipe del Morro, Fort San Cristóbal and La Fortaleza. It features magnificent beaches, hotels, plazas, historic sites, museums and active harbor, one of the best harbors in the Caribbean.