Roatán tourist information.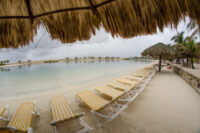 The beautiful Caribbean island of Roatan, the largest of the Bay Islands, which are a part of Honduras, about 40 mi off the northern coast of Honduras, regular port of call on Caribbean itineraries, particularly those leaving from Galvestont Texas port. It is located between the islands of Útila and Guanaja, and is the largest of the Bay Islands of Honduras. Royal Caribbean, Celebrity and NCL ships dock at the Coxen Hole cruise ship dock and mall complex, opened in late 2008. Here you'll find a bank with an ATM, a large Diamonds International shop, a couple of restaurants and a smattering of other shops, including a pharmacy and a liquor store.
Roatán Island
The island rests on an exposed ancient coral reef, rising to about 270 metres (890 ft) above sea level. This provides calm, clear beaches for swimming and snorkeling, and many varieties of sea life. Almost every hotel, vacation rental, resort, and other lodging is close enough to walk to beaches, and Roatan's many excellent dive operators assure convenient access.
Located near the Mesoamerican Barrier Reef, the largest barrier reef in the Caribbean Sea, Roatán has become an important cruise ship, scuba diving and eco-tourism destination in Honduras. Tourism is its most important economic sector, though fishing is also an important source of income for islanders. Roatan is located within 40 miles of La Ceiba. The island is served by the Juan Manuel Gálvez Roatán International Airport and the Galaxy Wave Ferry service twice a day.
Roatán tourist attractions
Roatan offers a variety of white sand beaches, tropical resorts and even a world class designer golf course, The Black Pearl.
Coxen Hole
Coxen Hole is the largest town on Roatan. It is home of government offices, the airport, and the cruise ship dock. It streets are narrow and crowded with people and honking cars. Street vendors offer peeled oranges, a variety of other fruits, newspapers, and souvenirs for tourists. Coxen Hole is one of the less attractive communities of Roatan. A low-lying part of Coxen Hole is called "the swamp" with slums. This area is not safe at night.
Resorts and Scuba Diving in Roatan, Honduras
Roatan is known around the world for its scuba diving. There are many diverse areas of the island as well as private cays which offer something for everyone. The reef surrounding the island attracts beautiful tropical fish and snorkelers alike. Dive attractions include sea walls, shipwrecks, a submerged airplane, and night diving. Sea turtles, dolphins, and whales swim in the waters of Roatan.
Anthony's Key Resort
This is the one of the largest and longest standing resorts in the Bay Islands. Fifty-six bungalows accommodate over 100 divers at its maximum occupancy rate. The resort offers a fleet of dive boats, a large swimming pool, and an open air restaurant so you can take advantage of the surrounding crystal clear Caribbean waters.
Cocoview Dive Resort
Cocoview is located on the calmer, South Side of Roatan. The rooms, hotel, and restaurant are steps away from each other. The dive operation is top notch and is run in conjunction with Dockside Divers the onsite dive shop.
Fantasy Island Resort
Fantasy Island is located on a 21 acre private island on the South Side, which is easily accessible to the main island of Roatan by a wooden bridge. Resort has pool, tennis courts, water sports galore, two restaruants, two bars, live entertainment, gift shop, and a top notch dive operation. The 109 rooms are not all taken by divers and the dive shop caters to day trippers as well as onsite guests.