Costa Maya tourist information.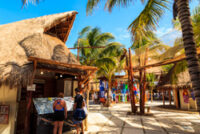 Costa Maya, located on a peninsula along Mexico's Caribbean coast,is regular port of call on Western Caribbean itineraries, particularly those leaving from Galvestont Texas port. About 100 miles south of Playa del Carmen, Costa Maya feels like a private island created from scratch expressly for cruisers. With sparkling sands and turquoise seas, Costa Maya is a relaxing destination where you can swim and sun, explore the coral reef offshore or Maya ruins in the jungle.
Costa Maya offers an abundance of excursions and activities to delight cruisers of all ages and activity levels. From Beach Breaks, snorkeling, Mayan Ruins, exploring nearby beaches, ATV Rides on the beach, Reef Fishing, Costa Maya has it all!
Puerto Costa Maya
Costa Maya's port has a new and modern tourist shopping mall. The center has a central plaza with saltwater pools and 'swim-up' style bars. There are several jewellery stores and many small shops selling ubiquitous souvenir items. It is generally open only to cruise ship passengers.
Costa Maya is the closest port of access to many of the lesser known Mayan ruins in the Yucatan including Chacchoben and Kohunlich. These sites are substantially less excavated than the better known pyramids of Tulum and Coba to the north; Chichen Itza and Uxmal in Yucatan.
The area around Costa Maya
The area is generally undeveloped but has been growing quickly and rapidly after construction of a large pier to accommodate cruise ships. Costa Maya includes two small villages − Mahahual and Xcalak − and extends physically from Xcalak in the south to the southern border of the Sian Ka'an in the north.
While Xcalak is approximately 60 kilometers (37 mi) south of the Costa Maya cruise port, the fishing village of Mahahual is only about 3 kilometers (1.9 mi) away. Cruise ships can easily be seen from the village. Mahahual has soft sand beaches, grass thatched palapas, and a coral reef a short distance off-shore called Banco Chinchorro, as well as several bars, restaurants, and shops. A new development called New Mahahual is being created directly inland from the port. When ships are in port, the village is busy with cruise passengers.
Costa Maya tourist attractions
Visit Chacchoben Mayan Ruins, Costa Mayas best selling tour
Kohunlich & Dzibanche Mayan Ruins
The small fishing village of Mahahual
The passage of the Maya through the Costa Maya
Chetumal Bay
Chetumal: Cradle of the mingling of races
Adventure Activities
Adventure Park Maya Lost Mayan Kingdom
ATV Jungle and Beach Adventure
Aqua Adventure Park
2 Tank Certified Dive with Equipment
Beach Power Snorkel
Dolphin Swim Adventure
Jaguar Truck Mayan Adventure Expedition