Ocho Rios, Jamaica tourist information.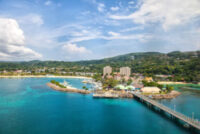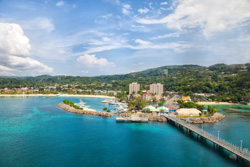 Ocho Rios is a port town in the parish of Saint Ann on the north coast of Jamaica ,regular port of call on Western Caribbean itineraries, particularly those leaving from Galvestont Texas port. A former fishing village, it's now a resort with a cruise ship harbor and a busy bay beach that's lined with hotels. Ocho Rios proper is a tiny town, often filled with cruise-ship passengers buzzing throughout the day at Island Village, an outdoor mall with a few decent restaurants, a 200-seat movie theater, and several jewelry and souvenir shops. But nightlife is more scarce here than in Montego Bay or Negril. Most shops close by 6 p.m., when the ships take to sea.
Jamaica tourist attractions
Outside the resorts, Ocho Rios hosts two of Jamaica's most famous attractions: Jamaica's most famous waterfalls – Dunn's River Falls that drop 695 feet directly into the ocean — and Dolphin Cove, where visitors can swim with dolphins, sharks, and stingrays.
The cool mountain waters plunge 600 feet to smooth limestone beds, then stream under the roadway before mingling with the turquoise Caribbean Sea. Whether you climb the falls or swim in the chilly eddies on the ocean side, you're sure to remember this place.
Swimming with the Dolphins at Dolphin Cove Ocho Rios
Dolphin Cove Ocho Rios is a a magnificent property located around 10 minutes from central Ocho Rios. Visitors to Jamaica have the opportunity to swim with these remarkable creatures in their natural habitat. Visitors also have the opportunity to to swim, hold, fee and learn about the evolutionary secrets of the Caribbean sharks.
Blue Hole Jamaica – Ocho Rios' Hidden Gem
Blue Hole Jamaica otherwise known as the Irie Blue Hole or the Secret Falls is located in the hills of Jamaica on the border of the parishes of St. Ann and St. Mary, around 25 minutes from the town of Ocho Rios.
Chukka Caribbean Adventure's Zion Bus Line
Jamaican Country Bus, the "Zion Bus Line", will take you on a unique tour from Island Village in Ocho Rios, via Claremont to the birth and final resting place of the King of Reggae, Bob Marley.