Montego Bay tourist information.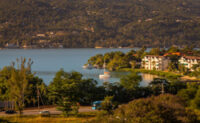 Montego Bay or MoBay, as it's called is the capital of Saint James Parish on Jamaica's north coast, regular port of call on Caribbean itineraries, particularly those leaving from Galvestont Texas port. MoBay is a major cruise ship port with numerous beach resorts and golf courses outside its commercial core. Due in part to its location on the island's north shore, Montego Bay has long since earned the title of tourist capital of Jamaica.  Cruise ships can dock at the pier in Montego Bay's Freeport zone, about 3 mi/5 km west of downtown. The city spreads east and north around the harbor from the Freeport zone past the town center and the tourist district. There's a tourist-information booth in the cruise-ship terminal, a telecommunications center, a refreshment stand and many duty-free shops.
Montego Bay offers a steady schedule of food and cultural festivals, and some of the Caribbean's most entertaining beaches, shopping, restaurants and golf courses. Montego Bay cruises let you shop, swim, and play in Mo Bay to your heart's conten,  and sample Jamaica's rich culture on excursions into the island's breathtaking countryside. Popular beaches include Doctor's Cave Beach with clear turquoise waters and Walter Fletcher Beach, home to an amusement park. There's also snorkelling and diving at coral reefs in the protected waters of Montego Bay Marine Park.
Montego Bay tourist attractions
Cornwall Beach
Doctor's Cave Beach
Dunn's River Falls & Park, Ochos Rios, Jamaica
John Halls Montego Bay Adventure Tour
KiteBoarding Jamaica, Bounty Bay, Trelawny
Montego Bay Sea Trek Adventure, Doctor's Cave Beach.
Walter Fletcher Beach