Falmouth tourist information.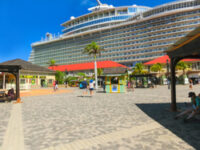 Falmouth is the chief town and capital of the parish of Trelawny in Jamaica, located between Ocho Rios and Montego Bay, regular port of call on Caribbean itineraries, particularly those leaving from Galvestont Texas port. It is noted for being one of the Caribbean's best-preserved Georgian towns. Cruise to Jamaica to discover the historic charms of this former sugar boomtown.  Aside from breathtaking beaches, Falmouth is also known for its 19th century Georgian architecture. Remains is the largest collection of intact Colonial Georgian architecture in the Caribbean, set on sand-dusted streets and a wind-swept harbor. The most popular dish on the island is cooked with jerk. Jerk, native to Jamaica, is a zesty mixture of spices that's used as a rub to flavor meats, seafood and shellfish.
Jamaican experience
Falmouth has something for all travelers. Take a spectacular adventures at Ocho Rios Dunn's River Falls. Visit Mystic Mountain Rainforest and the Irie Blue Hole while in Ocho Rios Reserve your Falmouth excursion in advance and be assured of your adventure. You can take a refreshing ride down the Rio Bueno, a trip to Montego Bay, the second largest city in Jamaica, walk the haunted halls of the Good Hope Great House and soak up sun and relax on beautiful white-sand Doctors Cave Beach. With white sandy beaches, crystal clear water and blue skies, it's easy to relax in Jamaica.
Falmouth tourist attractions
Falmouth excursions offers you a wide variety of shore trips to enjoy under the safety and supervision of professional and attentive guides. Climb the world famous Dunn's River Falls, Ride a horse into the crystal clear Caribbean waters, or sail leisurely on a raft down one of Jamaica's amazing rivers.
Dunn's River Falls
Dunn's River Falls offer 600 feet of climbing pleasure for thousands of visitors and locals every year. It is arguably Jamaica's most popular and famous attraction.
Dolphin Cove, Shark Show & Dunn's River Falls
After a climb up the spectacular Dunn's River Falls, you'll be whisked away to Dolphin Cove for a little hands-on fun. Touch exotic sea creatures, see a shark show, interact with lovebirds, watch local artists at work and look for pieces of eight.
Jamaica Beach Break
Beach Time! Spend an hour, or the day at your leisure on the longest white sand beach in Falmouth. Your day includes a short scenic drive through the historical town of Falmouth
Best of Ocho Rios with Lunch
This one of a kind Jaital exclusive, "Best of Ocho Rios" excursion begins directly from the Falmouth Jamaica cruise ship pier or your Falmouth Trelawny resort.
Zip Line and Off Road Safari
Jamaica Zip Line Adventure Tour boasts the longest combined lengths of zip lines in the Caribbean and the last one is called "Big Timba", which is 1600 feet long, and is the longest single zip in the all the Caribbean. Warming up and building confidence is what the 250-foot zip line #1 does, as it is very low to the ground and a gentle ride.