Disney Castaway Cay tourist information.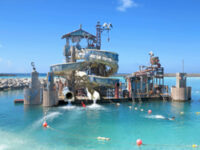 Castaway Cay is private island reserved exclusively for Disney Cruise Line Guests on Bahamian and Caribbean cruises. It is located near Great Abaco Island and was formerly known as Gorda Cay. The Disney ship docks right at the island, allowing Disney cruisers to simply walk off the ship directly onto this island with beautiful white sand beaches and clear turquoise waters.
Things to do
Pass by the old gas station and post office (make sure to send something from here–they have a special Disney postmark) as you head towards the trams to get to the Family Beach and Serenity Bay, the adult-only beach.
Alternatively, you can connect with nature via a series of walking paths and biking trails to fully explore Castaway Cay, which has its own touches of Disney details. Participate in a hands-on training experience with live, native stingrays during a 60-minute, instructor-led educational program.
Disney Castaway Cay tourist attractions
Most of the things to do are located around the Family Beach. Pelican Plunge is the floating water slide and play platform located in the ocean, which has two water slides, a giant "bucket dump" of water, and water cannons that you can use to shoot targets. Minimum height for the Pelican Plunge water slides is 38″ and anyone under 48″ must wear one of the provided life vests.
Port Adventures
Disney Cruise Line specially selects Port Adventures for their quality of service and richness of experience for all ages. These shore excursions are available at each port of call and you can look forward to exploring an exciting array as they become available. Be sure to check back for Port Adventures approximately 120 days prior to departure, as you'll want to book in advance!
Snorkeling Lagoon
Snorkelers of all skill levels will be enchanted by the undersea realm of marine life off Castaway Family Beach. Novices can follow the Discover Trail, while more experienced snorkelers may wish to tackle the Explorer Trail. Keep an eye out for the hidden Mickey!
Watercraft Ski Adventure – Single Rider
Take the wheel of your own WaveRunner watercraft on an amazing, guided tour while learning about the tropical marine life and compelling history of the region.