Belize tourist information.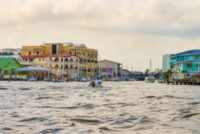 Belize, formerly British Honduras, is a nation on the eastern coast of Central America. Situated south of the Yucatán Peninsula, Belize is a land of mountains, swamps, and tropical jungle. It is bounded by Mexico to the north, Guatemala to the west and south, and the Caribbean Sea to the east. Belize doesn't quite fit the mold of Latin America or the Caribbean, but proudly considers itself both.
Belize's jungle areas are home to Mayan ruins like Caracol, renowned for its towering pyramid; lagoon-side Lamanai; and Altun Ha, just outside Belize City. Offshore, the massive Belize Barrier Reef, dotted with hundreds of low-lying islands called cayes, hosts rich marine life. Diving is Belize's main claim to fame due to an almost unbroken line of reefs and cayes extending for 150 miles along its coast that make up the longest reef system in the Western Hemisphere.
Belize tourist attractions
Belize City
Belize City is the largest city in Belize. It is located on a small peninsula protruding into the Caribbean Sea. Due to the shallow waters near Belize City, most cruise ships will dock roughly 4 miles away to the Southeast. Tender boats will bring passengers from the cruise ship to the pier. The drop-off pier will be at the Tourism Village along Fort Street. Walk inland, past the covered shops, to reach Fort Street.
Maya ruins
Altun Ha
Xunantunich
Caracol
Lamanai
Lubaantun
Lim ni Punit
Chan Chich archeological sites
Other Things to See
Belize Zoo
Baboon Sanctuary
Crooked Tree
Gales Point
Monkey Bay
Offshore Cayes