6-day cruise to Cozumel, George Town, Falmouth and San Juan with Disney Cruises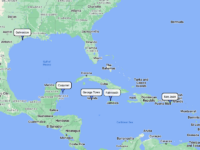 Cruising from: Galveston, Texas;
Departure Date: April 14, 2024;
Duration: 6-day cruise;
Cruise Line: Disney Cruises;
Ship: Disney Magic;
Ports of Call: Galveston, Cozumel, George Town, Falmouth, San Juan;
Enjoy magnificent scenery and unique experiences on this Western Caribbean cruise with Disney Magic
Day 0
The now-trendy resort town and port of Galveston are located on a barrier island just two miles off the coast of Texas in the Gulf of Mexico. The Port of Galveston is the busiest cruise port in Texas. Because of[…]
Day 1 – At Sea cruising
With so much to see and do aboard the Disney Magic, be sure to set your sights on some of these must-see experiences designed to stir your family's imagination and create memories to last a lifetime.
Day 2
Cozumel, a Mexican island in the Caribbean Sea at the tip of the Yucatan Peninsula, is a regular port of call on Western Caribbean itineraries from, particularly those leaving from Galveston, Texas, and is famed for its scuba diving. Plaza[…]
Day 3
George Town, Grand Cayman, is a popular port of call for the Western Caribbean cruises from Galveston, Texas. Cruise ships anchoring in George Town Harbour. George Town is the capital largest of the Cayman Islands, Grand Cayman. Grand Cayman is[…]
Day 4
Falmouth is the main town and capital of the parish of Trelawny in Jamaica, located between Ocho Rios and Montego Bay, and is a popular stop on Caribbean cruises, particularly those departing from Galveston, Texas. Falmouth is known for its[…]
Day 5 – At Sea cruising
Whether it's a cozy private retreat or an extravagantly appointed suite, Disney Magic staterooms are tailored for families, featuring innovative comforts and modern features you won't find anywhere else.
Day 6
San Juan is the capital and largest city in the northeast of the island of Puerto Rico and a popular port of call from cruises leaving Galveston, Texas. It has a land area of about 76 square miles, and the[…]
---
Western Caribbean cruises from Galveston are fantastic ways to explore magical islands, beautiful beaches, crystal clear waters, fantastic food, among other things. Enjoy magnificent scenery and unique experiences on this one-way Western Caribbean cruise out of Galveston to Cozumel, George Town, Falmouth and San Juan with Disney Cruise Line. Disney Magic leaving Galveston, Texas for 6 nights from April 14, 2024.