8-day Eastern Caribbean cruise to Freeport, Half Moon Cay, Nassau & Key West with Carnival Cruises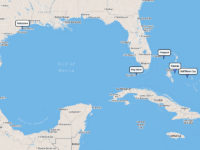 Cruising from: Galveston, Texas;
Departure Date: October 5, 2024;
Duration: 8-day cruise;
Cruise Line: Carnival Cruise Line;
Cruise Ship: Carnival Dream;
Ports of Call: Galveston, Key West, Freeport, Half Moon Cay, Nassau, Galveston;
Enjoy magnificent scenery and unique experiences on this cruise to Bahamas & Key West with Carnival Dream
Day 0
The now-trendy resort town and port of Galveston are located on a barrier island just two miles off the coast of Texas in the Gulf of Mexico. The Port of Galveston is the busiest cruise port in Texas. Because of[…]
Day 1 – At Sea cruising
Experience the relaxed ambience onboard Carnival Dream attentive service from a friendly staff that knows what hospitality means, you'll find your Carnival Dream ship truly is your home away from home.
Day 2
As part of the Florida Keys archipelago, Key West is famed for its pastel-hued, conch-style houses, it's a cruise-ship stop also accessible from the mainland via the Overseas Highway. It's known more for its coral reefs,  destinations for diving and[…]
Day 3
Cruise from Galveston, Texas to Grand Bahama Island is a complete vacation destination. On Grand Bahama Island, you can combine a glamorous vacation at an upscale resort with the charming allure of a small town. Boasting one of the world's[…]
Day 4
When you step foot on the beach at Half Moon Cay for the first time after arriving there on a Carnival cruise from Galveston, Texas, you'll immediately understand why this is not your normal vacation spot. Half Moon Cay, commonly known[…]
Day 5
On a Bahamas cruise from Galveston, Texas, you may go sailing, snorkeling, wandering along pearly pink sand beaches, and swimming in crystalline blue seas. The Bahamas' main city, Nassau, is home to some of the country's most beautiful beaches and[…]
Day 6 – At Sea cruising
There are plenty of daily activities on board Carnival Dream to keep you busy. Carnival Dream has everything a discerning cruiser could want, bars, sports venues and shops.
Day 7 – At Sea cruising
Whether you like to indulge in food, sport, games or education, there are tons of cruise activities aboard every Carnival ship.
Day 8
Galveston is consistently ranked as the top tourist destination in all of Texas. Although Galveston is best known for its cruise port, there is much more to the island than just a spot to embark on a trip around the[…]
---
Eastern Caribbean cruises are fantastic ways to explore magical islands, beautiful beaches, crystal clear waters, fantastic food, among other things. Enjoy magnificent scenery and unique experiences on an Eastern Caribbean Cruise from Galveston, Texas with Carnival Dream from Carnival Cruise Line. Carnival Dream leaving Galveston, Texas for 8 nights from October 5, 2024.