6-day mini cruise Belize, Costa Maya & Cozumel with Carnival Cruises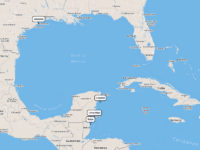 Cruising from: Galveston, Texas;
Departure Date: April 28, 2024;
Duration: 6-day cruise;
Cruise Line: Carnival Cruise Line;
Cruise Ship: Carnival Dream;
Ports of Call: Galveston, Costa Maya, Belize, Cozumel, Galveston;
Enjoy magnificent scenery and unique experiences on this Western Caribbean cruis with Carnival Dream
Day 0
The now-trendy resort town and port of Galveston are located on a barrier island just two miles off the coast of Texas in the Gulf of Mexico. The Port of Galveston is the busiest cruise port in Texas. Because of[…]
Day 1 – At Sea cruising
Cruising aboard Carnival Cruise Line elevates fun at sea to an art form. Carnival Dream demonstrates a true mastery of the craft with an onboard collage of fun entertainment for you to enjoy.
Day 2
Costa Maya, located on a peninsula along Mexico's Caribbean coast, is regular port of call on Western Caribbean itineraries, particularly those leaving from Galvestont, Texas. About 100 miles south of Playa del Carmen, Costa Maya feels like a private island[…]
Day 3
Belize, originally British Honduras, is a Central American country on the eastern coast. Belize is a land of mountains, swamps, and tropical jungle located south of the Yucatán Peninsula. It is bounded to the north by Mexico, to the west[…]
Day 4
Cozumel, a Mexican island in the Caribbean Sea at the tip of the Yucatan Peninsula, is a regular port of call on Western Caribbean itineraries from, particularly those leaving from Galveston, Texas, and is famed for its scuba diving. Plaza[…]
Day 5 – At Sea cruising
Discover exciting new entertainment offerings – lively music, stunning choreography, and beautiful venues that make Carnival Dream' onboard entertainment among the best at sea.
Day 6
Galveston is consistently ranked as the top tourist destination in all of Texas. Although Galveston is best known for its cruise port, there is much more to the island than just a spot to embark on a trip around the[…]
---
Western Caribbean cruises are fantastic ways to explore magical islands, beautiful beaches, crystal clear waters, fantastic food, among other things. Enjoy magnificent scenery and unique experiences on this Western Caribbean Cruise from Galveston, Texas to Cozumel and Costa Maya, Mexico and Belize with Carnival Dream from Carnival Cruise Line. Carnival Dream leaving Galveston, Texas for 6 nights from April 28, 2024.